Прошедший Концерт Тараканы! в Киеве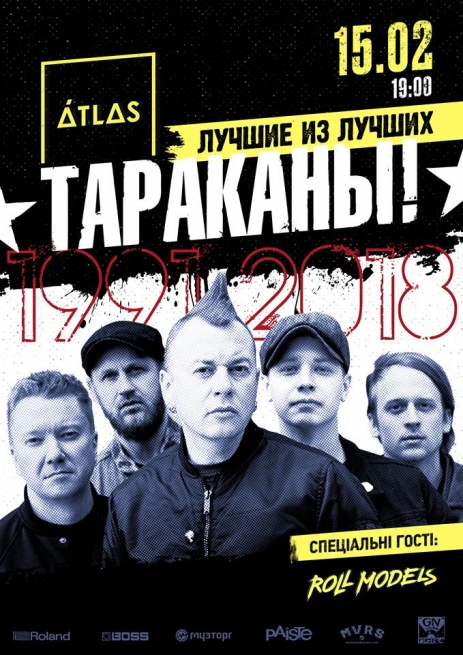 Свернуть
Подробнее о группе "Тараканы!"
4 апреля в Киеве выступит, пожалуй, самый успешный и долгосрочный панк-коллектив России — группа «Тараканы!».
Их песни можно обнаружить в плейлистах самых неожиданных людей, а концерты «Тараканов!» посещаются представителями буквально всех социальных прослоек — от студентов и сетевых фриков до модных журналистов и каннских лауреатов. Плотный, узнаваемый звук, энергичная подача и личное обаяние участников группы превращают эти факты в естественный результат творчества группы.
Молодые группы обычно начинают свой творческий путь со школьного актового зала, а уж потом попадают на сцену «Горбушки». А некоторые начинают с «Горбушки», потом попадают в школьные актовые залы… В далеком 1991 году группа, тогда еще под названием «Четыре Таракана», поднялась на сцену легендарного ДК им. Горбунова. Это был всего второй концерт в их истории. Тогда музыкантам было по 16 лет, и они не могли даже мечтать о том, что выйдут когда-нибудь на сцену перед Sex Pistols. Или сыграют с Toy Dolls, Stranglers, Misfits и The Exploited. Или исколесят всю Европу вдоль и поперек с Марки Рамоне из легендарных Ramones. А уж о том, что бы сами собирать толпы фэнов в залах по всей стране, да еще и просуществовать более 20 лет — об этом им не пришло бы в голову даже шутить!
За 23 года «Тараканы!» несколько раз объездили всю Россию и СНГ, намотав таким образом километраж, равный 10 экваторам. Группа играла в Японии, Швейцарии, Италии, Чехии, Австрии, Голландии, Дании, Швеции, Германии, Финляндии, Норвегии и всякий раз оставляла за собой новых поклонников и пару-тройку разбитых девичьих сердец. «Тараканы!» выпустили 11 долгоиграющих студийных альбомов, три из которых издавались в Японии и Европе (и на виниле тоже!). А уж сплитам, концертникам, сборникам и бутлегам вообще нет числа. «Тараканы!» были и остаются участниками и хэдлайнерами всех масштабных российских опен-эйр фестивалей, а за границей делили фестивальные подмостки с такими именами, как NOFX, The Monsters, Apocalyptica, Backyard Babies, Toy Dolls, Monster Magnet, Agnostic Front, MC 5, Skatalities. Имея за пазухой целый ворох радиохитов, «Тараканы!» стали первой альтернативной группой, чья песня звучала в рекламном ролике на всех телеканалах страны. Плодя массу побочных проектов, «Тараканы!» стали первой панк группой, чьи клипы снимают актуальнейшие кинорежиссеры современности.
Также в этот день в "Юности" выступят группы "К.Ц." и "Станция Мир".
blog comments powered by

Disqus