Прошедший фестиваль Koktebel Jazz Festival 2016 в Затоке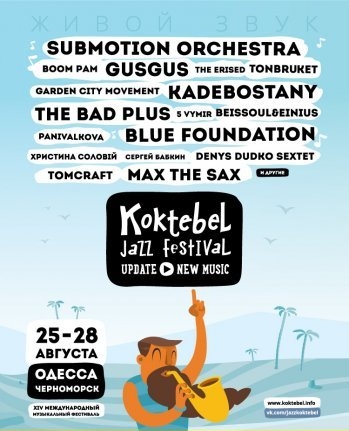 Свернуть
Подробнее о мероприятии "Koktebel Jazz Festival 2016"
Крупнейший в Украине музыкальный open-air, история которого продолжается уже 14 лет.

«Джаз Коктебель» — это не только уникальная атмосфера, которая раскрывает высшие чакры и творческий потенциал человека. «Джаз Коктебель» — это, в первую очередь, музыкальный фестиваль, незамутненная и осознанная точка зрения на актуальную альтернативную сцену.
XIV Международный музыкальный фестиваль «Джаз Коктебель» пройдет в Черноморске с 25 по 28 августа 2016 года. Среди участников опен-эйра: Submotion Orchestra (UK), GusGus (IC), Blue Foundation (DK), Kadebostany (CH), Max the Sax (AT), The Bad Plus (USA), Сергей Бабкин (UA), Tonbruket (SE), Garden City Movement (ISR), Beissoul & Einius (LT), Boom Pam (ISR), panivalkova (UA), 5 Vymir (UA) и многие другие.
Koktebel Jazz Festival 2016

25-28 августа, Черноморск



blog comments powered by

Disqus