Прошедший Концерт Rock Symphony в Киеве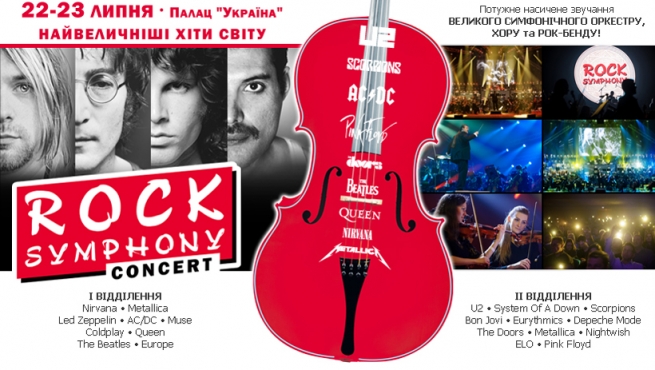 Свернуть
Подробнее о группе "Rock Symphony"

Симфорок - вершина искусства современного мира.

Рок Симфония звучит очень цельно, треки незаметно меняются один на другой, формируя единое монолитное произведение. Слияние виртуозных инструментов хора и оркестра создает непередаваемые ощущения. Эмоции на концерте изменяются от бурного восторга до тихого лирического наслаждения мелодичными звуками. Впечатления от каждой следующей композиции наслаиваются на впечатление от предыдущих, и в самом конце звучит стремительный, динамичный, виртуозный финал, подрывая эмоции и доставляя истинным ценителям гениальной музыки непередаваемое удовольствие!

Мощное насыщенное звучание большого симфонического оркестра, хора и рок-бэнда, а также самые значимые мировые хиты!

На концерте:

Акт I
Nirvana • Metallica • Led Zeppelin • AC/DC • Muse • Coldplay • Queen • The Beatles • Europe.

Акт II
U2 • System Of A Down • Scorpions • Bon Jovi • Eurythmics • Depeche Mode • The Doors • Nightwish • Pink Floyd • ELO.

От сопродюсеров Notre Dame de Paris Le concert и Mozart L'opera Rock Le concert.

Два отделения с антрактом.
blog comments powered by

Disqus