Прошедший Концерт Beth Hart в Киеве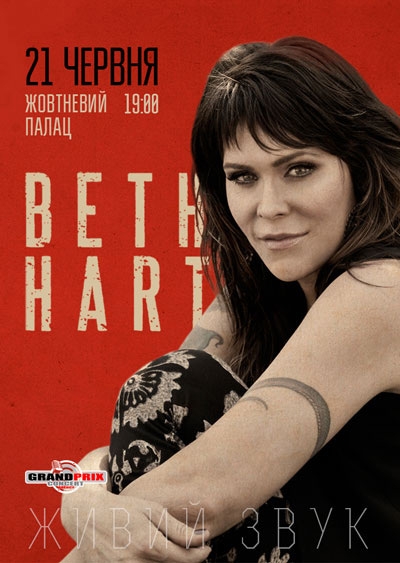 Свернуть
Подробнее о группе "Beth Hart"
21 июня 2016 года, первый и единственный в Украине концерт неповторимой - BETH HART!

Номинант «Grammy» в номинации «Best Blues Album», номинант «Blues Music Award" категории «Contemporary Blues Female Artist», обладательница потрясающего и уникального голоса выступит в Киевском Октябрьском дворце. Ради искусства, BETH бросила школу, и полностью погрузилась в мир музыки. Она пела в дешевых клубах, и прямо на улицах, пыталась наладить личную жизнь, и боролась с алкоголем и наркотиками. В результате, к записи своего первого серьезного альбома она написала более 140 песен! Первая же пластинка вознесла ее на вершины хит-парадов, а критики не уставали писать восторженные рецензии. Даже пресыщенная Америка не слышала такого голоса уже очень и очень давно…

С тех пор, в жизни BETH были и взлеты, и падения, но каждый из ее альбомов открывал все новые грани ее таланта: «Immortal» был роковым альбомом с небольшими отклонениями в сторону блюза, но несмотря на отсутствие громкого имени, у исполнителя, работали над ним супер-продюсеры Hugh Padgham (Phil Collins, Sting, The Police, Paul McCartney), David Foster (Bryan Adams, Christina Aguilera, The Bee Gees, Céline Dion) и Mike Clink (Guns N' Roses, Mötley Crüe).

Полностью поддерживая традиции блюза старой школы, BETH много сотрудничает с другими известными музыкантами: в ее активе выступления с такими грандами как Jeff Beck, запись песни для нового альбома Slash, записи и гастроли с выдающимся Joe Bonomassa. И все эти музыканты отзываются о работе с BETH в самых восторженных тонах.

Поэтому, не пропустите концерт, который без преувеличения станет самым громким и уникальным блюзовым событием года.
Одна из самых ярчайших блюзовых исполнительниц современности впервые выступит в Киеве.
blog comments powered by

Disqus