Концерт Dance With The Dead в Киеве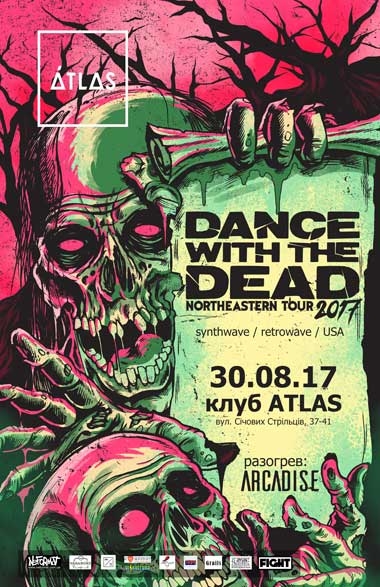 Свернуть
Подробнее о группе "Dance With The Dead"

Видимо поэтому их творчество кажется знакомым многим слушателям, оно словно «эхо из прошлого столетия», раздающееся в сердцах тех, кто испытал на себе культурный шок времён видеосалонов и одноголосных авторских переводов.

Призраки, затерянные на давно мертвых, потрепанных и истертых видеокассетах, оживают и пускаются в пляс на ночном танцполе. Шуршащие аналоговые синтезаторы и механический стук драм-машин стробоскопическим безумием сотрясают густой воздух ночного города, который дрожит, как видео со старой пленки. Дискотекой руководят зловещие демоны и гротескные монстры, воскрешенные из старых хоррор-фильмов силой звуковой магии.
Представьте, что произошло бы, если бы Фредди Крюгер, Джейсон Вурхис, Пинхед и «ведущий» «Баек из склепа» решили поразвлекаться, окружив себя синтезаторами и драм-машинами?

Это сюжет для странного фильма? Нет. Обычный концерт одного из самых претенциозных стилей современной музыки — удивительной и странной тоски по давно ушедшей эпохи, воплощающейся в синтетическое бесчинство под названием retrowave.

blog comments powered by

Disqus